Internal Inspection:
The side panels can easily be removed using two thumbscrews. For a low cost case, the interior has features commonly found on expensive enthusiast level cases. The interior is painted black to match the exterior, there are three holes on the motherboard tray that will make cable management easier, and there is an extra large cut-out that will make installing CPU coolers extremely easy. Antec pre-installs 6 motherboard riser mounts, and provides additional ones in the accessories. It was disappointing not to see any rubber grommets around the cable management holes, however the edges are rolled so there are no sharp edges; adding grommets might cause a slight increase in the price of the case but to me it would be worth a small increase.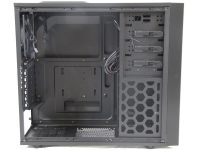 The 5.25" devices are secured in the case with tool-less clips, while screws can be added to the other side if desired. The 3.5" hard drive cage has a honeycomb look on this side of the case. This will require all 3.5" drives to be installed from the back side of the case; which can be considered a good thing rather than having to remove both panels to install 3.5" drives. Next to the 3.5" drive cage a 120mm fan can be installed, but there is no filter available for this optional fan so dust can easily fill the interior.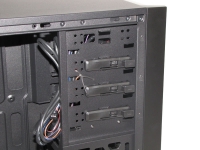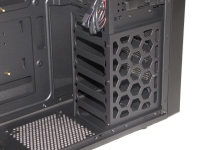 The below left picture shows the bottom area of the case, which is where the power supply will be installed and Antec has placed four rubber feet to reduce vibration noise from the power supply. In addition, the seven expansion ports and two water cooling holes can be seen. The expansion port covers are not reusable, so once you remove them you'll need to find other covers. The second picture shows the two exhaust fans that are included with the case, both of these 120mm fans use the 3-pin power connection on the motherboard.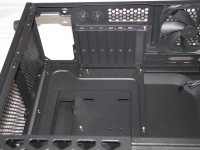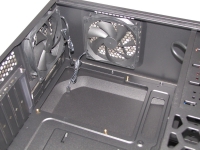 The front panel can be removed along with all the attached cables, which might come in handy as you might need to disconnect the cables to remove the front panel during installation. As mentioned, there is a place to install a 120mm intake fan, but there is no filter for this. The back panel can be removed to allow access to the CPU cooler cut-out, which is the largest I have seen. In addition, the back panel must be removed in order to install hard drives.