The Basics:
Right out of the box this board is an eye catcher thanks to the purple/pink PCB and orange and pink memory slots. The first step was to give the board a once over to check for any shipping damage, or to see if there was anything amiss from the factory. Nothing seems to be out of order, so on to the inspection of the board. This motherboard, like most others, follows the unspoken guidelines for basic motherboard designs. The only deviations it seems to have are related to the location of the 4-pin power connector and the IDE connectors. The 4-pin power connector is located just off to the left of the CPU socket, and the IDE channels are way down on the bottom of the board. The IDE connection location could be an issue if you have drives in the top of your case, use an extended case, or just have short cables!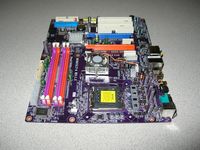 The next thing that I noticed was the amount of spacing provided around the CPU socket. There should be enough room there to fit even the biggest of coolers.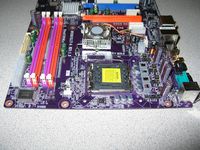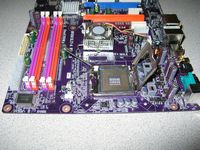 As with all Socket 775 motherboards there is the protective plastic cover over the contacts to prevent anything falling into the socket, or something damaging the contacts. It is important to remember that whenever you do not have a CPU in the socket that this protective cover is on to prevent accidental damage.
I would have to say the most noticeable thing on this entire motherboard is how sparse the rear I/O panel is. The only things found back there are two PS/2 ports, a Serial port, four USB ports, 1 network connection, and a variety of audio options. All in all it leaves the back a little bit empty.