Testing:
To test the cooling potential of these two
Cooler Master
coolers, I installed them in a system with the following equipment:
» AMD X2 4200 AM2 processor @2750MHz
» Asus M2N32-SLI Deluxe @250x11
» 2GB (2x 1024MB) OCZ Special Ops Elite DDR2 800 (PC2 6400)
» eVGA 7900GTO PCI-E card
» Ultra X-Connect 550W Power Supply
» 2x 80GB Hitachi Deskstar SATA-II hard drive in RAID 0
» 1x 120GB Seagate 7200.9 SATA 3Gbps hard drive
» Memorex DVD/CDRW
» 10-n-1 Media Card reader
» Cooler Master CoolDrive IV
» Fans: 2x120mm LED
The idle condition was achieved by powering on the system and allowing it to sit at the Window's desktop with no additional applications running for a period of 60 minutes. During the load condition, Folding@Home, 3DMark06, and Sisoft Sandra's Burn-in Wizard were run for a period of 60 minutes. These conditions were performed three times, with the average temperature shown below.
The chart below details both the idle and the load temperatures of the CPU as reported by the CoolDrive IV and the Asus Probe II application. An ambient temperature of 20 degrees Celsius was maintained throughout testing..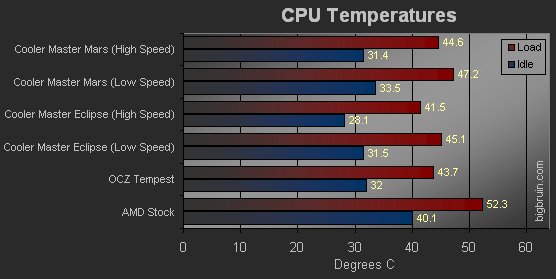 As you can see both coolers do a great job at cooling the overclocked AMD X2 4200 AM2 processor. The Eclipse does a better job, but it is much larger than, and more expensive than, the Mars.